Button Spy Camera DVR Cam Sport Portable
SKU:

Button spy camera DVR cam
Vibration feedback buttonsMicro SD Recording (Not Included)
640 X 480 Resolution30 Frames Per SecondConceal within clothesC
Description
Button Spy Camera DVR Cam Sport Portable Superior Quality High-Resolution Video Audio 32GB Micro SD


Spy Button Pinhole Camera

Stock Status: Available

Super Clear Video and Audio Recording!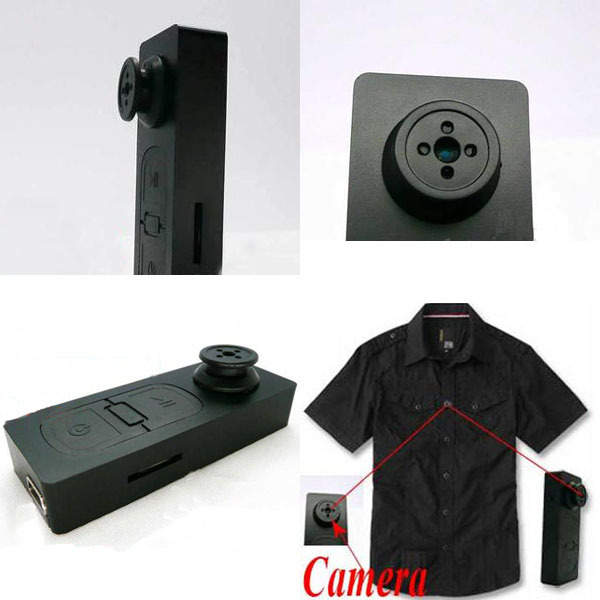 It's Convinient and really easy to conceal!
Great Video and Audio Quality Recording !!!

Button Pinhole Camera Spy Hidden Camcorder Mini DVR Surveillance Video Recorder
Product Summary
■Pinhole button DVR
■Records audio & video to micro SD card (Micro SD Card Excluded)
■Large vibrating buttons lets you use device blindly
■Saves high quality 640 x 480 30FPS video
Easy to Use
This 2nd generation spy button features larger vibration feedback buttons- allowing you to easily use the device without having to look at it. Just press and hold the button for 2 seconds and the device will vibrate for a moment, confirming that it is now recording. Press it once more to stop and save.
Improved Image Quality
The new and improved Pinhole button DVR now records high-resolution 640×480 videos at 30FPS. Colors are accurate and images are clear and full of detail. You can even capture video in low light conditions with good results. Whatever the conditions might be, you can count on the 629-2GEN spy button to capture all your undercover recordings when you need it most.
Specifications
■Primary Function: Miniature DVR
■Material: ABS Plastic
■Color: Black
■Memory: Micro SD card – 16GB max
■White Balance: Auto
■Time/Date Stamp: Yes
■Video Recording Format: .AVI
■Frames Per Second: 30FPS
■Video Resolution: 640 x 480
■Built-in MIC: Yes
■Ports: Micro USB
■Recommended Range for Audio: 1 – 3 Meters
■Recommended Range for Video: Up to 8 Meters
■Power Source: 300mAh built-in rechargeable lithium-polymer battery (recharge directly from the USB port)
■OS Supported: Windows 98SE/ME/2000/XP/Vista (32-bit version only) /Windows7
■Continuous Recording Time: 2-3 hours on a full charge
■File Size: 1 hour of audio/video will use about 1GB memory
Product Notes
■For best results when shooting video uses the camera in a stationary position.
Package Contents
■Micro DVR
■USB Cable
■User Manual
Check out other Spy CCTV here
Visit our Facebook page: Papylon Enterprise Pte Ltd